Flanigan's Resort, a complete boutique resort in Zion Canyon, is a year-round destination eco-resort designed with a classic park lodge atmosphere. Reserve your stay today!
450 Zion Park Blvd, Springdale, UT, 84767
Springdale, Zion National Park
Dine,  Spa,  Stay  &  Discover
Located in Springdale, Utah, just a 5-minute walk from the south entrance and Zion National Park Visitor Center, Flanigan's Resort, a complete boutique hotel in Zion Canyon, is a year-round destination designed with a classic park lodge atmosphere. Book now for future visits!
No Deposit is due until 48 hours before arrival,
No Cancellation Charge up to 48 hours before arrival.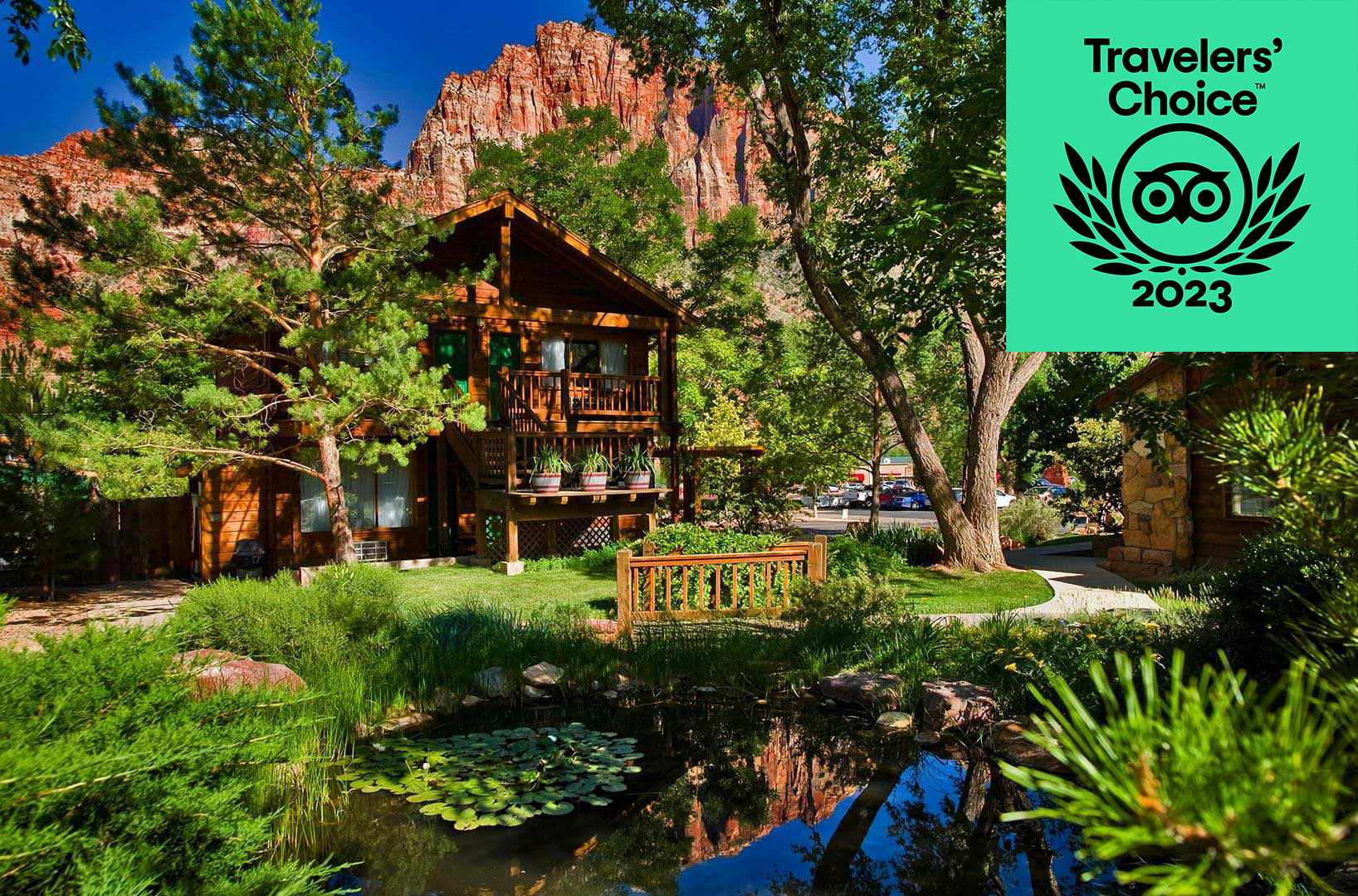 Rooms, Suites, & Villas
Our rooms, suites and villas offer wireless internet access, a coffee maker, large television, and beds fitted with Frette linens.
Spotted  Dog
A casual American bistro with handcrafted fresh ingredients and homemade sauces. Open daily for a gourmet dinner and excellent breakfast service. Sit-down or take-out coffee options available. Check out our breakfast, dinner, wine, & bar menus!
Discover
The most popular activities in and around Springdale, Utah. Discover an incredible array of professionally guided outdoor adventures in the Zion area.
Deep  Canyon
Luxurious facials, exotic body wraps, and an extensive menu of therapeutic massages. Discover all of our Spa Treatments and Salon Services options.
Visit Zion National Park
250 square miles of this beautiful land
to explore in Zion National Park.
Yoga | pilates | adventures
Mind, Body, & Spirit
Enhance your stay at Flanigan's with yoga, pilates, meditation, nature walks to our hilltop labyrinth, and much more.
We are not Human Beings on a Spiritual Path, but Spiritual Beings on a Human Path.
Flanigan's Resort & Spa On Instagram
Share your photos with #flanigansresort
Lovely Spot
Nancy C. |
 We stayed here 2 weeks ago & loved it. The location is perfect, in the middle of things & close to Zion, yet it is not hectic or noisy. The property is small, nicely landscaped and relaxing after a full day of hiking. The pool was convenient & very appreciated! Our room was clean & comfortable with a little patio.
We would definitely stay here again..
Luxury Is the name of the game!
James K. |
 Great check-in experience. Parking was available even though a restaurant was on the grounds. The room was SO comfortable.. Just what we needed in the middle of our swing though several national parks. It was little pricy as compared to other Inns in the area, but well worth every penny.
Perks in the room included two reusable aluminum drink containers. 
Perfect Zion Location
Michele H. |
 Everything was perfect. Lovely property, nice sized room with a balcony, and amazing views. It's a short walk to the park entrance and to many great Springdale restaurants and shops. I'm so happy we ended up at Flanigan's for our first trip to Zion. 
Restaurant is excellent
Doug F |
 Very nice clean hotel close to the park entrance. Really nice room. Friendly staff. Great grounds with a nice pool and hot tub area and a private nature walk to the maze. Restaurant is really good and handy. Discounted breakfast buffet we took advantage of every morning . But don't miss dinner as the food is excellent.
The Staff was most kind
Deanne H. |
FABULOUS place!!! The "staff" were most kind and very helpful. The cottage we stayed in was peaceful amongst a bustling Springdale. I only wish we could have stayed a week at Flanigan's Inn!